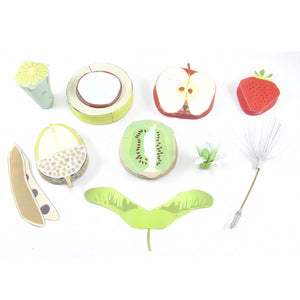 Teach your class how plants disperse their seeds with a paper model!

Plants use many methods to disperse their seeds to improve their chance of survival. They Include wind, animal, water and explosive methods. This model shows 10 examples of how different plants disperse their seeds.
Buy once, print forever!
Your students begin by making their models of apple, kiwi, strawberry, acorn, maple, coconut, poppy, laburnum, burdock and dandelion.  Then they use them to learn about the different ways these plants disperse their seeds.
Includes full colour Powerpoint class presentation!

Takes just 30 minutes! Dimensions (apple): 7cm x 7cm / 2.5in x 2.5in .

Download includes: instructions, colour & mono model templates, and Powerpoint file

All you need: paper, scissors and tape.